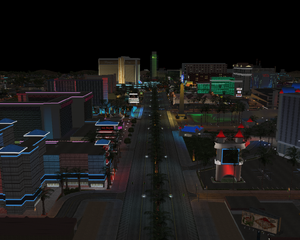 The Strip is an iconic road situated in the center of Las Venturas. It connects nearly every district in the city. It is one of the most populated and attracting spots in the city.
Many of the largest hotel, casino and resort properties in the world are located on the Las Venturas Strip. The Strip started as a simple highway but became a worldwide icon with the success of several casinos along it. The first casino to spawn along the Strip was a Native-American owned franchise, the Apache Grand Hotel and Casino Resort.
The success of the casino sparked interest in Joseph Costanzo, whom subsequently extorted it and influenced other wealthy figures to open casinos of their own. This resulted in the skimming of major casino funds, earning millions for the Costanzo Crime Family. The Strip became highly spectated by the local police department and resulted in major regulations from the city.