I initially announced the phases through which I'm going to work to set the server's script up. While still stuck (?) on phase one the first stage of the log-in protocol has finished. The simple login GUI is to embrace simplicity itself allowing people to quickly shift to the character selection screen after filling out their respective credentials.
The next step will be the character selection screen which was inspired by the WoW character selection screen for further reference. It's yet again simple and user-friendly. I want to ban out the use of too much clicking and typing. Getting ingame shouldn't be much of a nuisance after say a client-side dysfunction causing a crash. It needs to happen quick and easy.
As for our database I've struggled getting the MySQL database on our VPS accessible from remote (as in the server) so I've resorted to a third party integrated .db SQLite database to save account information, interiors, vehicles and characters.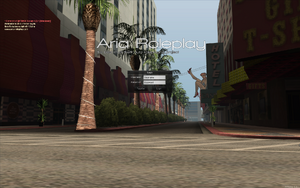 Ad blocker interference detected!
Wikia is a free-to-use site that makes money from advertising. We have a modified experience for viewers using ad blockers

Wikia is not accessible if you've made further modifications. Remove the custom ad blocker rule(s) and the page will load as expected.